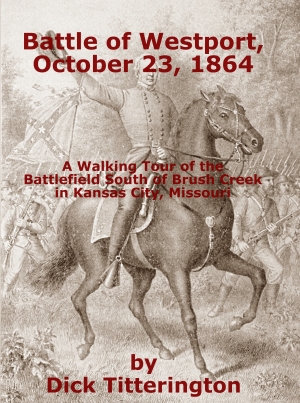 It was a little over eight years ago when I slipped into my alter ego, theCivilWarMuse, and began to publish virtual tours of Civil War sites of interest on theCivilWarMuse.com website. Since then I've continued to expand my horizons by presenting and writing about the Civil War in the Trans-Mississippi and leading tours of Kansas City battlefields.
In 2014 during the 150th commemoration of the Battle of Westport, I attended a walking tour in and around Loose Park led by Bjorn Skaptason, former Kansas City resident and currently associated with the Abraham Lincoln Book Shop in Chicago, Illinois. I liked what I saw and decided to adapt Bjorn's tour into a self-guided walking tour. At first, I just printed it out myself and provided copies to the Battle of Westport Visitor Center and Museum. I finally published the tour as a book in October 2017. That book, Battle of Westport, October 23, 1864: A Walking Tour of the Battlefield South of Brush Creek in Kansas City, Missouri. This online tour is not a substitute for buying the book, which is available in the Amazon catalog. But it will give you an idea of what the tour covers and provide access to high resolution versions of the tour's maps.
Online Tour
This online tour will provide you with a list of the tour stops, along with a selection of images related to that tour stop. I have created a series of battlefield maps to depict the general positions of Union and Confederate forces throughout the day on October 23 in the area covered by the tour. Each map will display on your screen as a thumbnail. Click on the thumbnail to load a high resolution copy of the map.
All maps and photos are the work of Dick Titterington, aka theCivilWarMuse.
| | |
| --- | --- |
| | |
| Map showing the Battle of Westport walking tour stops. Click on thumbnail to load high resolution version of map. | Regional map of Independence, Westport and Kansas City. Click on thumbnail to load high resolution version of map. |
Copyright © 2017 Dick Titterington, All rights reserved.